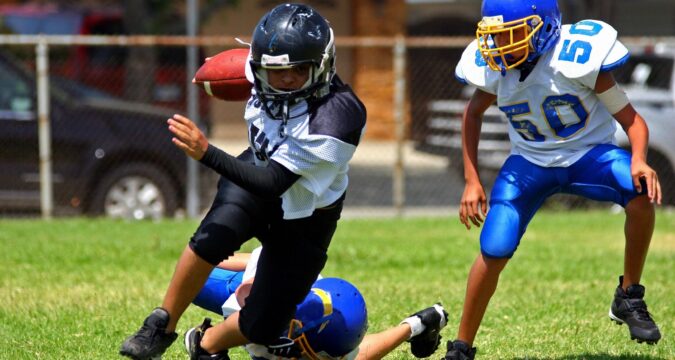 What Your Son Needs for His First Football Season
As you prepare for your son's first fall of organized football, the best piece of advice is to pay close attention to what your league provides in terms of equipment. Football requires as much different equipment as any sport, but the good news is that many leagues provide a great deal of the gear.
What follows is a rundown of all required equipment, separated into "items the league may provide" and "items you, as a parent, will be expected to provide."
What the League May Provide
Helmet: Each player's helmet needs to be identical during games, so it's asking an awful lot to expect parents to provide this item. Of course, the importance of a good helmet can't be overstated. Fit is critical, and size matters. Your child's head will likely be measured with the size compared to the corresponding helmet size chart. If the child is between two sizes, in most cases it's wise to choose the smaller helmet.
As a general rule, football helmets should be tight but not uncomfortable. Work with a qualified league official or experienced coach in fitting your child for his first helmet.
Shoulder Pads: Usually provided by the league, shoulder pads allow for proper protection when blocking, tackling, or when absorbing blocks and tackles from opposing players.  Again, a snug yet unrestrictive fit is important.
As your son moves along in the sport and chooses his primary position, different sizes of pads will be recommended.
Football Pants; Hip/Thigh/Knee Pads: Increasingly, leagues are offering pants with the pads already sewn into the material. If your league does not do so, each item can usually be obtained for about $5-$10 apiece. Each pair of pads should fit comfortably underneath the uniform pants, which are almost certainly provided by the team or league.
What You Will Provide
Mouthguard: Hopefully this one doesn't require much explanation as to why each player must provide his own equipment. Mouthguards have received added attention in recent years in terms of their importance in avoiding avulsions (the knocking out of an entire tooth) or other damage to the teeth. If your child is in braces – or even if he isn't – it may be advisable to consult with your dentist or orthodontist before purchasing a guard. Your dental professional can advise you on what specific features are most important.
On average, these items will run you between $10-$20.
Jockstrap/Protective Cup: Another one that requires no explanation. These items can usually be purchased in tandem for about $10-$15.
Football Cleats: Essential for proper footing on the field, these items can run you about $50 for a basic pair of shoes. As your player ages and grows into a specific position, different shoes will provide different benefits, but for his first year in the sport, your son just needs a comfortable pair that fit well and allow for free range of motion. Luckily, there's no shortage of strong options on the market.