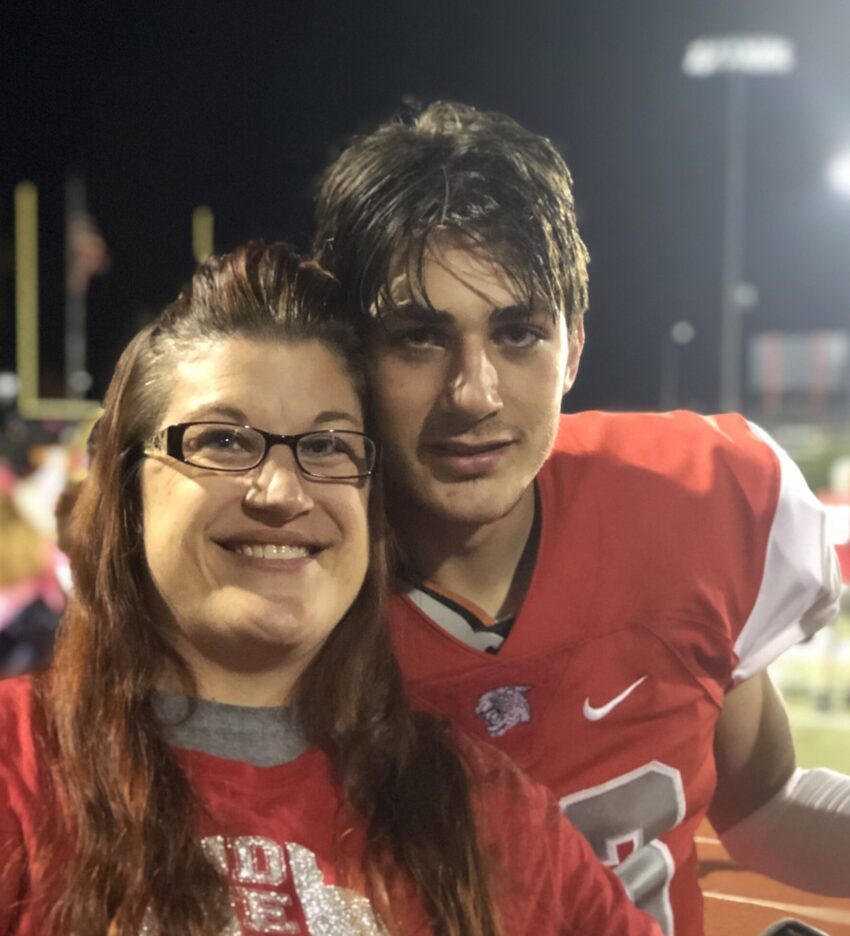 Why one mother is fighting for the fall sports season in local schools
Let's dispense with any niceties – at its best, Twitter is a medium filled with half-truths, speculation, and at times downright biased sources of information.
At its worst, Twitter is… well, all those things with dashes of racism, sexism, and other elements of the worst of humanity.
To no one's surprise, the COVID-19 era has done little to improve the level of discourse on the social media platform, in many ways contributing to the politically charged atmosphere surrounding our community responses to the pandemic. Recently, that focus has turned to interscholastic sports. A meaningful, impactful discussion about the merits and drawbacks of playing this fall, taken to Twitter, easily turns into a name-calling battle where advocates of postponement deride the idea of risking it all "just for a game," while those in favor of playing downplay the significance of COVID-19 or refer to their cautious counterparts as 'scared' or worse.
But there is one saving grace – you choose whom to follow on Twitter, meaning to a large extent you have control over what you do or do not read. Tweets are presented in rough chronological order from those you follow. If someone offends you in the comments section, well, maybe next time you'll know better than to click there!
Being involved with high school sports from a coaching and reporting standpoint, I have encountered countless sports parents. They are friends, rivals, co-workers, confidants, often partners for discussion or debate over everything from defensive coverages to potential playoff matchups.
But I don't follow many of them on Twitter. Donna DeNardo is an exception.
Mrs. DeNardo is a dental hygienist and registered behavior technician who lives in Pottstown, about 45 minutes west of Philadelphia. But if you talk to her, she'd much rather tell you she's the mother of Dante, a standout wide receiver/defensive back and student council president at Owen J. Roberts High School. Dante aspires to not only play football but study law and eventually go into politics once his high school days are over.
Since he was six years old, football has been Dante's passion, and it's all set to culminate in the 2020 season – his second straight as team captain. Except, as you might have heard, the fall sports season in the commonwealth of Pennsylvania is in a great deal of danger.
Last Friday, the Pennsylvania Interscholastic Athletic Association (PIAA) went against the recommendation of Governor Tom Wolf, voting by a whopping 25-5 margin to move forward with the fall season. But it hasn't stopped individual districts from making opposing decisions of their own. Thus far, three of the 12 schools in the Pioneer Athletic Conference – where Dante DeNardo and Owen J. Roberts High play – have postponed or canceled their fall sports season. A fourth district has decided to tentatively move forward with all sports but interscholastic football. Owen J. Roberts' decision is pending but expected any day now.
For parents like Donna DeNardo, the idea of a fall without football isn't very appealing. She loves the game, no doubt. But what she loves more than anything is Dante.
"Not only the athletes, but our marching band members – year after year, they put in hours upon hours of blood, sweat, and tears," she said. "Sports, activities, their coaches – that's what gets some of these kids through the day. Coaches serve as role models, mentors, even parental figures in some cases. Sports are so much more than just a game."
Donna's background in the world of healthcare tells her that the risk of COVID-19 is real; not something to be brushed aside carelessly for the sake of sports. She just asks that she, as a parent, is entrusted to decide which risks are or are not acceptable for her only child.
"We walk out the door and take a risk daily," she said. "As a society, we cannot continue to live in a bubble and not participate in life. As a family, it should be our decision to allow our child to play sports. These kids (at Owen J. Roberts HS) have been practicing since June under the guidelines sent out by the state and their own school's health and safety plans."
Mrs. DeNardo cited statistics showing a rise in mental health issues in young adults – a demographic that will soon include her son – during the pandemic. "These kids are having things taken from them," she said. "and I fear the negative consequences that may follow from all this extra time they have on their hands."
Adding to the struggle is the fact that 2020 marks Dante's senior season, a long-awaited occasion in the DeNardo household. For the team, it's a chance for Owen J. Roberts to improve upon last year's 8-3 record and District One playoff appearance. Despite the Wildcats' consistent improvement over recent years, toppling league rivals Spring-Ford and Perkiomen Valley has proven elusive.
"We'll never have this opportunity again," Donna added. "To lose out on Dante's senior season would be heartbreaking."
For Dante DeNardo, a Division One prospect, it's a chance to provide more film for a number of interested colleges.  Last season, Dante led his team in receiving and kick returns, including a 94-yard score against then-league champion Perkiomen Valley.
Which brings us back to Twitter… when compiling some reports from that very game, I asked via the social media outlet for some information on the teams' upcoming schedules and rosters, hoping someone from either school district might see the tweet and respond. Instead, I heard from Donna DeNardo. She identified the players recently up from junior varsity, gave me final scores of previous games – all information that, to be honest, I should have known but was already embedded in her memory. We followed one another, and for the balance of the 2019 season, she was my source for Owen J. Roberts score updates on those Friday nights that took me to other games around the area.
Donna's been active on Twitter this summer as well – quick to steer clear of the aforementioned name-calling, but following and retweeting from the @LetThemPlayPA account, a page dedicated to, in their own words, "supporting [Pennsylvania] student-athletes who want to play their sports."
The potential exists that the fall sports season could proceed, but with Donna and other parents possibly unable to attend games in person. It's not a desirable or even likely outcome, but it goes back to the same ideal of sacrifice and selflessness that Donna believes football has instilled in her son.
"We are already making sacrifices…not allowed to watch practice, no parent meetings, no senior dinner, or welcome dinner," she explained. "We will do whatever we need to do to have a season. Of course, we want at least parents to be able to attend games. However, if that is not allowed, at least the teams can play. I fully plan to be at each game in my car if I have to so I can watch in some capacity and be there."
The idea of a player's mother having to watch her son's senior season from the driver's seat of her SUV is dispiriting enough, but it's nothing compared to the next reality we discussed. Regardless of the decisions made by PIAA or any league or school district, football isn't going anywhere. In the wake of spring sports cancellations for Pennsylvania schools, It was club teams, leagues, and associations for softball, baseball, lacrosse, and other sports who proved it was possible to move forward with minimal if any disruption given careful planning and sacrifices by players, coaches, officials, and fans alike.
High school sports have been compromised in terms of significance by the proliferation of club and travel teams in just about every sport. As of now, football stands as the standard-bearer for the importance of scholastic sports in a community. All over the United States, a Friday night football game brings out hundreds of members of the community – many of whom have long since stopped playing or even seen their children's playing days come to an end. It's hard to imagine many of these people would feel any sort of connection to a newly formed, independent team consisting of players from any number of communities.
For future players of Dante DeNardo's caliber, maybe the club route would be the best thing – a chance to play with athletes of similar skill, with similar goals and aspirations for football beyond high school. But the physicality and nature of football would probably mean that unlike many other sports, the athlete would eventually have to choose between his school team and his club team. And make no mistake, these athletes will do what is necessary to be seen by college coaches offering scholarships and opportunities.
But it's not the route the vast majority of these athletes prefer, and it's certainly not what parents like Donna want to see.
"Football is a brotherhood," Mrs. DeNardo said. "Dante is proud to call his (Owen J. Roberts) teammates his brothers.
"But kids will find rec leagues – sports are being played all over the commonwealth regardless of what schools are deciding," she said, "Don't the schools want their athletes to be safe under their own plan rather than going to a rec league?"
In the long run, Dante DeNardo and his mother will be fine. Donna describes her son as resilient, a natural leader almost impervious to peer pressure. But he's also a kid, a kid on the brink of seeing his final season of scholastic football – his lifelong passion – taken away. She can't help but wonder how such a decision would affect him.
"Dante is an optimist. He's been positive throughout this," she explained. "However, his once-positive attitude is waning. He is frustrated that adults are making these decisions for the athletes and that no matter how hard they try, [the athletes'] voices are not being heard.
"Not having a season would be very hard on him. They've worked so hard; they've done everything they were told to do to ensure safety. His love of football will not be affected, but his mental health will be."
But after all, it's just a game… right?