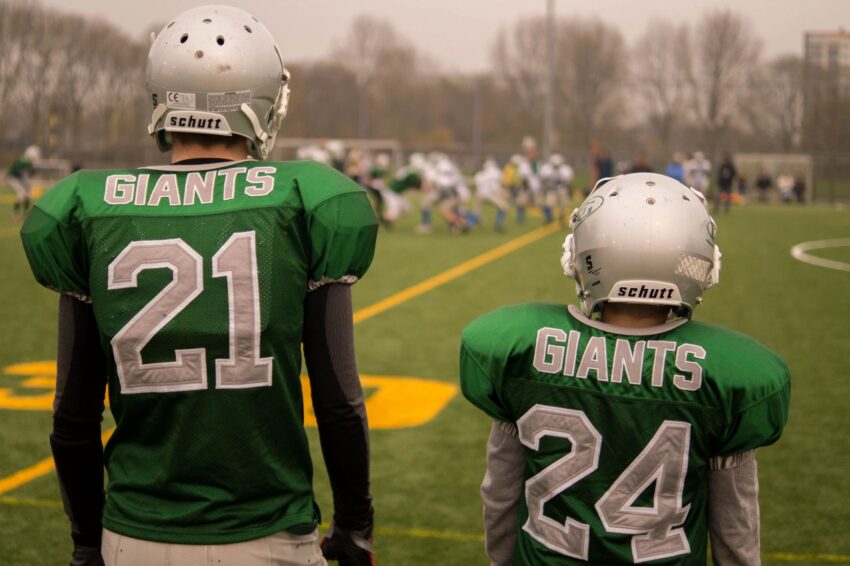 Parents, athletes rally for fall sports in Central League schools
Over 100 high school athletes and their parents gathered at Strath Haven High School in Wallingford, PA on Thursday afternoon to advocate for the resumption of fall sports in their respective school districts.
Athletes from the host school were joined by peers from Conestoga, Garnet Valley, Marple Newtown, Penncrest, Ridley, Springfield, and other local schools in an effort to garner support and request answers to a decision that could affect their immediate and long-term futures beyond the playing field.
Last Friday afternoon, the Central Athletic League made the decision to postpone fall sports for 12 high schools in Chester, Delaware, and Montgomery counties.
Taking their direction from the Pennsylvania Department of Education, plus the Chester and Montgomery County Health Departments, the league offered the possibility of three shortened, competitive athletic seasons (fall, winter, spring sports) starting in January.
Understandably, players and parents don't want to wait that long. The purposes of the rally were simple: request that the Central Athletic League reconsider its stance on cancellation via a re-vote and requesting further clarity on how each district voted to allow for easier outreach to each superintendent.
"The districts have the final say," explained Derek Ryder, a Strath Haven parent.
Ryder, a 1991 graduate of Strath Haven, is a former professional baseball player and father of three children, the oldest of whom is Jack, a member of the class of 2021 and Strath Haven's returning starting quarterback. "All the life lessons I learned through sports have played a big role in my success," he explained.
Jack will be the third generation of the Ryder family to graduate from Strath Haven. Right now, Jack has multiple opportunities to play college football at the Division 3 level and is hoping to have a senior season in which to add on Division 2 or even FCS-level Division 1 offers.
Soccer, field hockey, cross country, tennis, and golf athletes are affected by the decision as well, and that's not all. At Strath Haven High School, for example, approximately 400 students are part of the school's marching band (around 1/3 of the total enrollment.) The postponement or cancellation of fall sports takes away the football games that provide one of the marching band's most prominent performance stages.
Derek Ryder has spent the past week circulating a petition encouraging the Central League schools to reconsider their stances. As of Thursday morning – before the afternoon rally at Strath Haven – the petition had 1,300 signatures.
"Out of the 86 schools canceling, 37 are in District 1 and 42 in District 12 (the two districts comprised of Philadelphia school districts and the immediate suburbs)," the petition read. "Several schools have reversed their decision to PLAY in recent days. Let's organize to reverse the direction of our 12 schools in the Central Athletic League – shrink the 15 percent (of PA schools) that were forced to forgo their fall sports season.
"The spring sports already suffered enough last year. Don't take away from their time or that of the winter athletes."
The Ches-Mont League, comprised of Chester County high schools, also postponed fall sports entirely, but other leagues like Suburban One and the Pioneer Athletic Conference have allowed each district to make their own decision, resulting in the possibility of salvaging a season in both locations. If even a handful of Central League schools were to reconsider, a path exists to a 2020 fall sports season that would start at the end of September or in early October.
"We understood that the season might be only 5-6 games long [for football]," said Ryder, "and we would love that opportunity. Even if each school plays each other twice, three times – we're just hoping for a season.